Share
In the Share view you'll find all the details needed to share your Form with the world.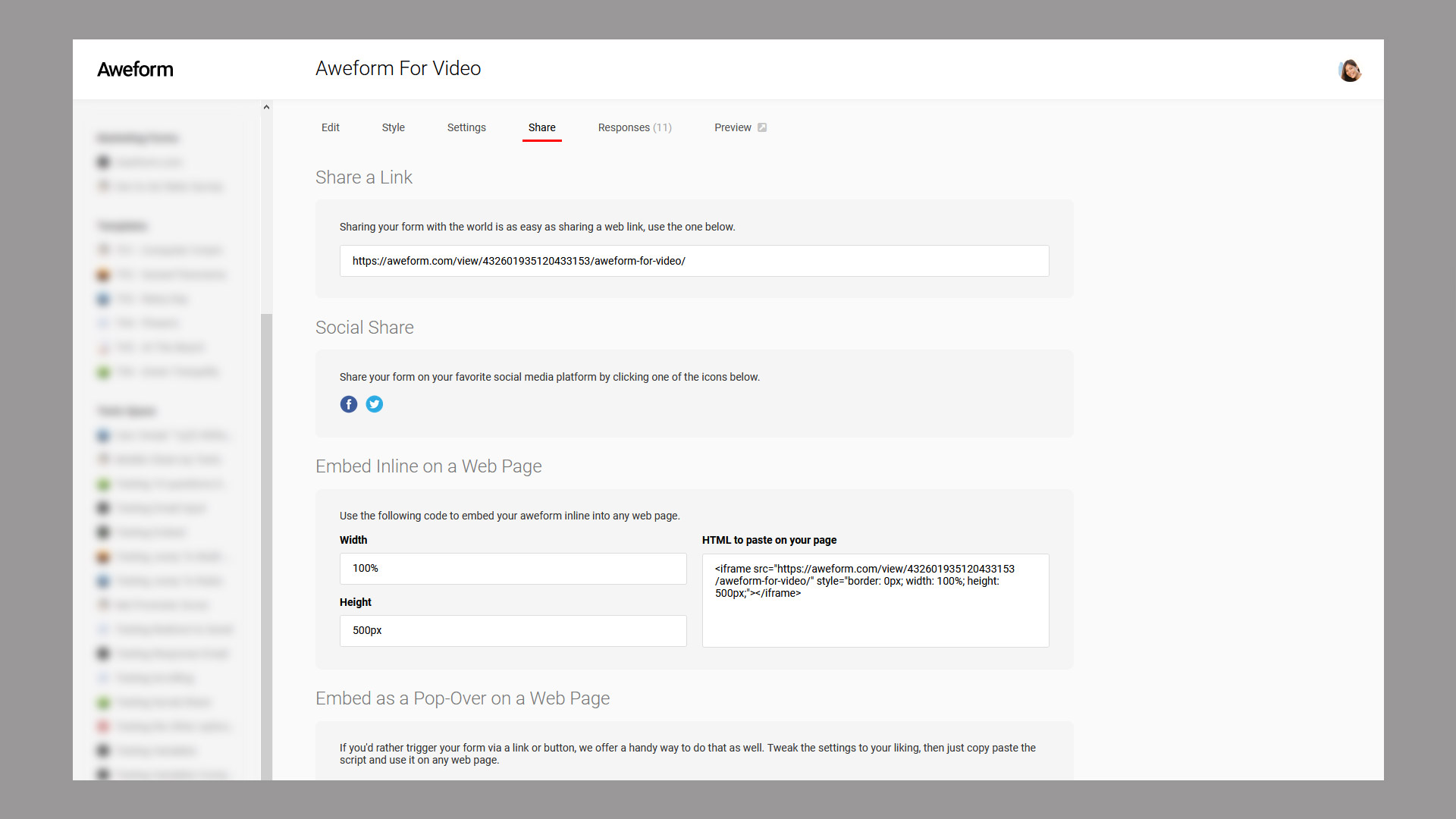 Share a Link
Just sharing the link to your Form is an easy way to share your Form, just copy paste the link in the input box and share it via email, social or any other way you can imagine really.
Social Share
Use the Social Share icons to share the link directly via Facebook or Twitters share functions.
Embed Inline on a Web Page
This option is great if you want to make a Form a part of your webpage. The Form is shared in an iframe which can be embedded on any page.
Width
This alters the render width, typically you'd use something like 100% which means the form will cover the entire width of the containing page, but any valid CSS value is OK here.
Height
This alters the render height, typically you'd use something like 500px or 800px, but you may want to use a view height relative metric (ie 50vh) or really anything else.
HTML to paste on your page
The title says it all, this is the HTML snippet to include on your webpage. Do note that you are free to alter basically any part, the important bit is that you keep it an iframe, and point it to your Form. If you know HTML you can style and size it any way you like.
Embed as a Pop-Over on a Web Page
You can use the Pop-Over embed when you want to trigger your Form as an action for a button or a link, in most cases this is a better choice than inlining the Form.
Open As
You can chose weather to open the Form in either Pop-Up mode (centered on the screen, covering around 90% or so on each axis) or Left Drawer or Right Drawer. In Left/Right Drawer mode the Form is presented covering either half of the screen.
NOTE: on mobile devices, all options do basically the same thing, and that is take over the whole screen, that is the only way that makes sense on such a small screen.
Automatically Close After
This option allows you to optionally enter a number of seconds until the pop-over automatically closes after the Respondent completes the form. If left empty the Form has to be closed manually.
Button Text, Button Style, Background & Text Color
These options control the styling of the sample button visible in the Preview window. Do note that you can style this button any way you like by modifying the code on your page, the only important parts are that you add an onclick="" or href="javascript:"" calling AweformOpen(this) and that the element referenced by this (typically the button itself) has the aweformId attribute.
HTML to paste on your page / Preview
The text area contains the code you need to paste on your webpage to match the result from the Preview section.